This page features some of the most useful watercolor art lessons that are available on The Arty Teacher website.  Each one has been created by an experienced art teacher and tried and tested in the classroom.  These resources are bound to save you hours of planning time.
First up is the 'Watercolour Techniques' resource below.  It asks students to experiment with a range of techniques such as wet on wet, using salt, wax resist and more.  It comes with a detailed lesson plan with lots of tips for teachers, so if you haven't tried some of these techniques before, don't worry!  As with all resources on The Arty Teacher, it comes with version with the different spellings of 'watercolor' and 'watercolour'.  Just click the picture to find out more.
If you are looking for a complete unit of work, this 'Hundertwasser Watercolour Project' is ideal.  Step-by-step pictures in a PowerPoint guide your students through every stage.
The 'Warm & Cool Colours Watercolour Shells Project' below, teaches so many skills and ideas.  Not only will your students learn about warm and cool colours, but they'll learn to gradate watercolour too.  There is a video to support this lesson here.
The 'Jasper Johns Watercolour and Coloured Pencil' unit of work below is a best seller on The Arty Teacher. It teaches not only about the artist but also colour theory as it uses anaolgous/harmonious and complementary colours.  A stage by stage description, good examples and tips throughout help you and your students get great results.  Click on the image to find out more.
This abstract art lesson below looks at mark-making, layering, and working wet on wet.  A PowerPoint, worksheet and good example set your students up for success. It is fun and therapeutic too!
My students got great results with this 'How to Watercolour a Bee' resource.  The stage by stage images and simple instructions really supported all students.
The Chinese Masks resource below is ideal if you wish to include a cultural resource into your scheme of work.  The good example which is included in this download and pictured below is completed with one side in coloured pencil, and one side in watercolour.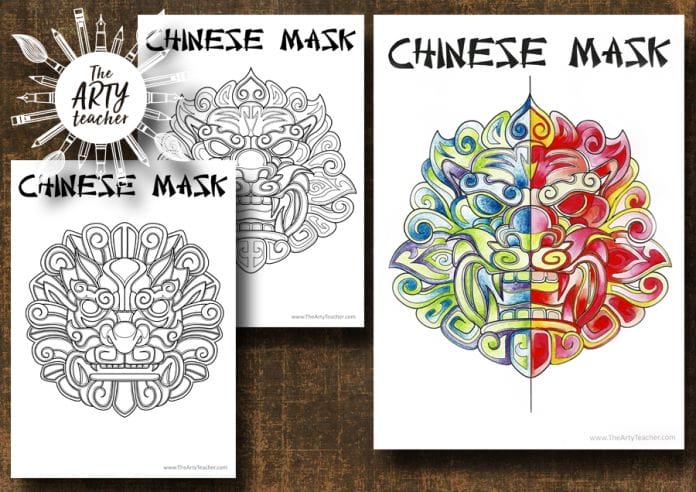 'Watercolour Bubbles' below, is ideal to teach how subtle watercolour can be.  Students use wax resist and really watery watercolour to achieve the light and bubbly effects that you can see below.  I've used this successfully with students aged 10 and above.  As you can see it includes the good example pictured below.
If you're going to really help your students consolidate their knowledge, you'll want this 'Peer Assessing and Self-Assessing Watercolour' download.  You can choose if your students peer assess or self-assess – the choice is yours!
If you'd prefer a summative assessment at the end of a watercolour project, the download below is just the ticket.  It gets students to look at keywords, what they have done well and what they'd like to improve on.  It also gets them to think about what 'transferable skills' they have used.  A detailed lesson plan does the hard work for you.
Seasonal Watercolour Art Resources
The three resources below are useful to have up your sleeve for Autumn, Halloween and Christmas watercolor art lessons.  Each teaches the valuable watercolour skills that we want our students to have.  I love lessons where students don't even realise they are learning.  Click each image to find out more.
The Arty Teacher is home to quality art resources that are saving art teachers time around the globe.  You can buy individual resources or for much better value why not look at a subscription?