A few weeks ago I visited Derek Jarman's Prospect Cottage in Dungeness. Jarman trained at the Slade School of Fine Art and went on to be a pioneering film-maker, stage designer, sculptor, painter, poet and costume and performance artist.
His garden and home have been described as ' a living, breathing work of art' by Art Fund director Steph Deuchar.  After a few minutes of being there, I could see why.
Situated on the windswept shores of Dungeness, Jarman transformed a fisherman's cottage and shingle plot into a sculptural sanctuary.  Diagnosed with AIDs Jarman found solace in his time here.  Using only items of flotsam and jetsam found on the beach and naturally occurring shoreline plants Jarman created an otherworldly landscape.  The small site held my attention for quite some time as each small section of the garden revealed hidden treasures.
Arrangements of driftwood, metal and stone made it easy for me to imagine Jarman collecting and arranging.
The cottage itself is not currently open to the public but its custodians 'Creative Folkstone' have plans to change this after significant fundraising.  They also have plans for a residency programme for artists, academics, writers, gardeners, filmmakers, and others interested in Jarman and his work. It sounds like there are exciting and creative things to come.
Archives from the cottage – comprising notebooks, sketchbooks, letters, drawings and photographs – will be placed on long-term loan to Tate Archive, the national repository for British art.
Below is a picture of Prospect Cottage viewed through a carefully arranged piece of driftwood in the garden.
Jarman remarked that 'Paradise haunts gardens, and some gardens are paradises. Mine is one of them. Others are like bad children, spoilt by their parents, over-watered and covered with noxious chemicals.'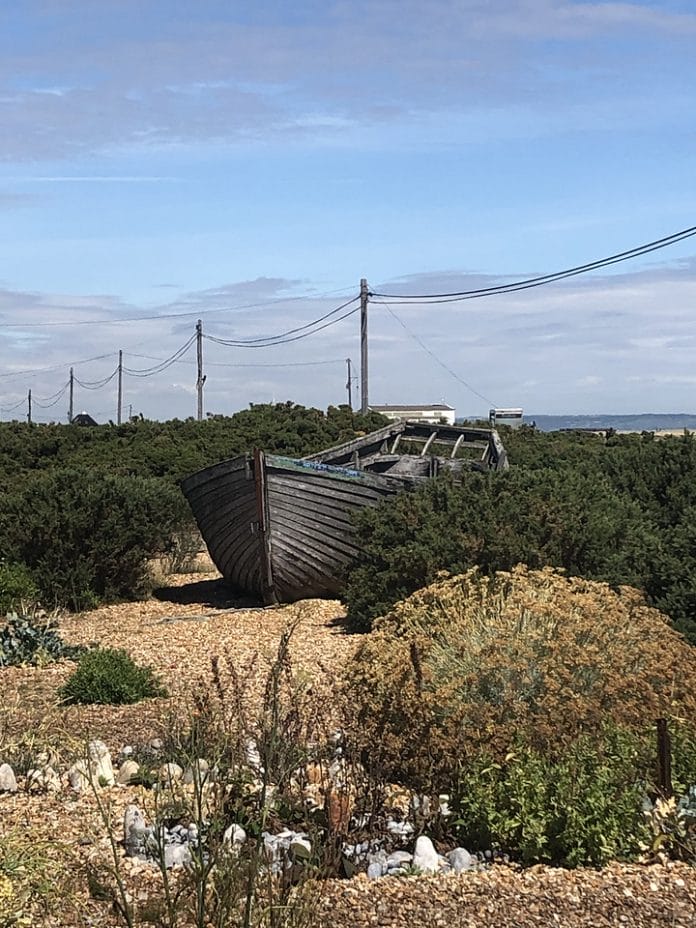 I first became aware of Jarman in the 1990s during the aids epidemic.  He was commissioned by Manchester Gallery, at the height of the hysteria surrounding HIV/Aids crisis, to produce a series of work that Jarman called 'Queer'.  He is perhaps best known for his films.
There is an exhibition planned at Manchester Art Gallery called 'Derek Jarman Protest!'.  It was postponed due to Coronavirus and a new date will be announced soon.