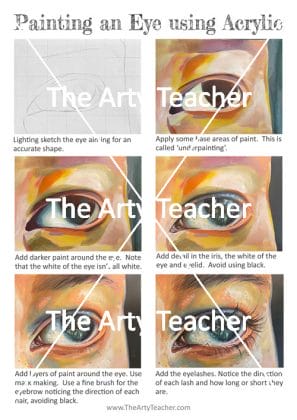 Painting an Eye with Acrylic is a download that has everything you need to support your students with learning how to paint an eye with acrylic.  This download includes:
A step-by-step guide within a 9 slide PowerPoint. (Pictured above). Talk this through with students before they start.
The same images on a step-by-step worksheet that supports students whilst they work.
Three ethnically diverse images to paint (pictured above). Or why not get your students to photograph their own eyes?
You could choose to use my 'How to Paint Skin Tones' resource before using this lesson.
You must log in and be a buyer of this download to submit a review.