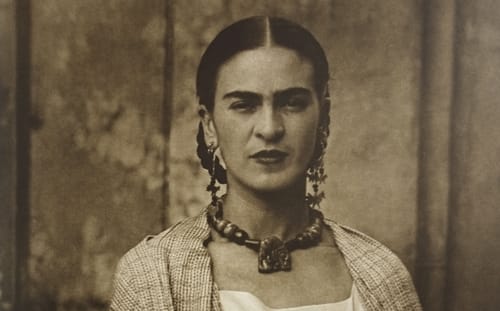 In the Coyoacán district of Mexico City, the Casa Azul is where Frida Kahlo was born, created most of her work, and later died. Like many art galleries and museums the site is now closed but has become accessible to fans all over the world thanks to a virtual tour.  You can explore its rooms and famous artworks.
The 360-degree virtual tour that lets you explore both her living quarters which have been preserved as she left them and the galleries that make up the Frida Kahlo Museum.  Her bright yellow kitchen makes mine feel very ordinary and the simplicity of her home makes me notice the clutter I surround myself with.
You'll have fun spotting some of Kahlo's most famous works, including 'Frida and the Caesarean', 'Long Live Life'  and 'Portrait of My Father'.  I loved looking at her favourite easel, the bedside mirror that allowed her to paint her renowned self-portraits and the Aztec and Toltec statuettes prefectly placed in the leafy courtyard.
I'm told that there are usually queues around the block to get in but now you can skip them.  Do it while you can because who knows if this is a permanent opportunity?
Check out the virtual tour of Casa Azul now.