Visual artist Robin Brooks works in a variety of media including oils and acrylics, and monotype printmaking, but it's her collage landscapes that really caught my eye.  What an inspiring start they would make for a project in the art classroom. Painting her own papers with acrylic she is inspired by the beautiful Maine landscape in which she lives.  Involved with art education herself, she was happy to provide a free presentation about her work (see below). The presentation is ideal for using with your students.
Hand-painted papers, layering, torn edges and cut edges are combined to create textural, collage landscapes.
Brooks captures the feeling of light in the landscape around her, clearly inspired by the forest, water and rugged coastline of Maine.
I know you are an art teacher, but was your art teacher an influence on you?
I was interested in art from a very young age.  My two high school art teachers had a great influence on my decision to pursue art as a career. In addition to teaching, they were both practicing artists. 
Do you make any other kind of art other than collages?
Yes. Being an art teacher means I have my hands in many different materials. I love to paint, sketch, draw with pastels, and work directly in nature.
Do you keep a sketchbook?
Yes, I have a few sketchbooks! One is just devoted to quick studies of my cats. Sometimes when I only have a short bit of time before school, I'll just do a quick impromptu collage or make a small sketch in my little sketchbook. Being in the studio every day is a commitment to my art life.
When did you start making collages?
I began experimenting with collage in my late twenties after finishing my master's degree in painting in New York City. When I moved to Maine, I began developing my approach in earnest. I was inspired by Henri Matisse's large paper cut-outs which I'd seen at the National Gallery in Washington D.C., and also by the collage work of African American artist Romare Bearden. There is a certain liveliness and spontaneity to collage that attracted me.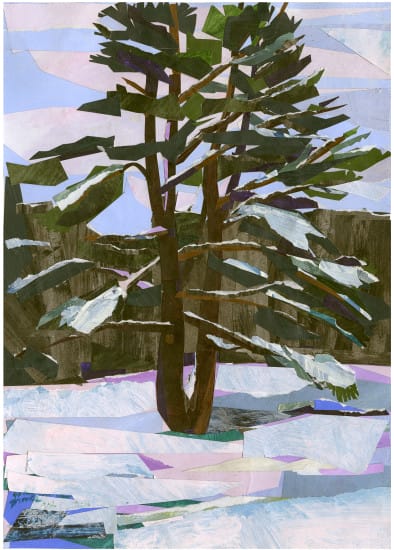 Do you work plein air or from photographs?
Because a collage takes time to develop, I work indoors. But with that said, most of my landscape collages are inspired by photos I have taken outdoors.
What practical advice would you give students who are trying to make work inspired by yours?
I would say to start by finding a photo of a landscape you find inspiring. Observe the light and time of day in the photo. Try to break the image down into basic shapes and color planes. You may find it useful to do some loose sketches before you begin the collage process.  I would suggest starting by painting paper for those big areas of color–sky and ground. Work from the sky and background forward and layer the elements–trees, branches, leaves, water, rocks, etc. on top of the big color areas. Be willing to cut and trim pieces and don't throw away the scraps. They are often useful! Don't glue things down too soon. Use tape to lay things out and try out different arrangements before you glue them down. Collage is all about layering.
If you want to see more collage landscape take a look at Robin Brooks website.
The Arty Teacher is home to quality art teaching resources.  Click the image below to go to an introductory presentation on Robin Brooks collage landscapes which is made to use in the art classroom.