What is a natural form? 
A natural form is an object found in nature that has not been changed or altered. It is still in its natural state.  For example, flowers, leaves, seedpods, bones, skeletons, feathers, birds, fish, animals etc.
'Natural Forms' is a favourite topic for art teachers to pursue.  The flowing lines within a natural form are often more forgiving than a manmade object.  This blog post showcases a range of natural forms artists.  There are many names you'll know and hopefully some new ones too.
Sophie Munns
Australian artist Sophie Munns is a great artist to use in the art classroom.  Her obsession with seeds has spanned decades. She creates drawings in a wide range of media, beautiful artist books with simple construction methods and they all ooze with wonderful colours and textures.
"When we observe seeds and their capsules closely through the camera lens, magnifying glass or naked eye it's astonishing the details, structures & textures that become visible to the eye through focus." – Sophie Munns
Albertus Seba
Albertus Seba was a Dutch pharmacist, zoologist and collector. Seba asked sailors and ship surgeons to bring exotic plants and animal products to prepare drugs. Seba also started to collect snakes, birds, insects, shells and lizards in his house.
There are lots of books by Seba and you can find them on Amazon.com and Amazon.co.uk
Anna Atkins
Anna Atkins was an English botanist and photographer. She is often considered the first person to publish a book illustrated with photographic images. Some sources say that she was the first woman to create a photograph.  She is famous for her beautiful cyanotypes.  You can read more about using cyanotypes in the art classroom here.
Cas Holmes
Some students love to stitch and if they do, you should introduce them to the artist Cas Holmes. She produces work with a variety of subject matter including natural forms.  Trained in fine art, her work combines mixed media with found materials and stitch and is best described as 'painting with cloth'.  You can download a free presentation for art teachers to use with your students here.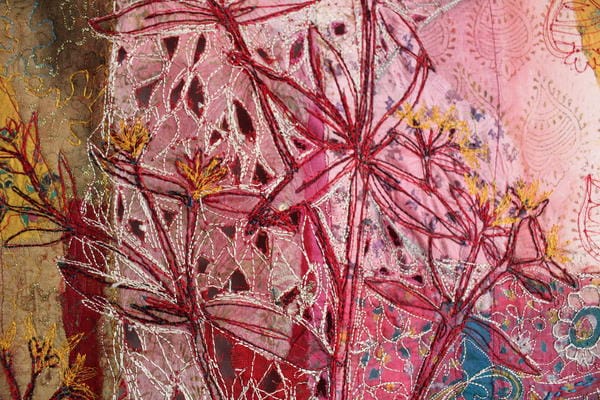 Cas Holmes has published a range of different books that are loved by art teachers.  You can find them on Amazon.com and Amazon.co.uk.
Ernst Haeckel
Ernst Haeckel was a German zoologist, naturalist, eugenicist, philosopher, physician, professor, marine biologist, and artist who discovered, described and named thousands of new species.  He's loved by art teachers everywhere and has drawn shells, algae, jellyfish and many other sea creatures.  The way he arranges items on a page is as inspiring as what he draws and there is a lot of pattern in his work.
Find Ernst Haeckel books on Amazon.com and Amazon.co.uk
Joshua Abarbanel
Joshua Abarbanel creates work with titles such as 'Reef 11' and 'Brambles'. However, we don't need to know the titles to know that his work is about natural forms.  Layered, organic shapes creep and grow across the wall where his work is situated.
'LA Weekly' stated that his "sculptural works combine the compositional precision of engineering with the organic abundance of nature." Quite so.
His works are made from wood but I can imagine successful paper or card versions being created in the art room.
Juan Sanchez Cotan
Although the painting below by Spanish baroque painter Juan Sanchez Cotan initially seem austere, the potential to use them with art students is enormous.  I have had a student similarly hang various vegetables and photograph them as they decay.   This lead to a hugely successful project.
Karl Blossfeldt
Karl Blossfeldt was a German photographer, sculptor, teacher, and artist. He is best known for his close-up photographs of plants and living things, published in 1929 as 'Urformen der Kunst'. He was inspired, as was his father, by nature and how plants grow.  He made his own cameras that allowed him to photograph plant surfaces in magnified detail.
Find Karl Blossfeldt books on Amazon.com and Amazon.co.uk
Kate Malone
Kate Malone is one of the UK's leading ceramic artists with a career spanning thirty years.  She has developed an unmistakable and highly regarded style and is loved by art teachers everywhere.  Observations of nature, particularly its fruits, nuts and berries are the overriding influence in her work.  I particularly like that you can view her sketchbooks on her website here.
Georgia O' Keeffe
Famous for her close-ups of flowers, Georgia O'Keeffe is an ideal artist for teaching a natural forms project.  As well as flowers O'Keeffe also painted leaves and skulls which are ideal for this topic.
Michelle Parsons
The gestural brush marks and use of colour are so appealing in Michelle Parson's artworks.  She paints lobsters, crabs, fish and other animals which are all ideal for a natural forms project.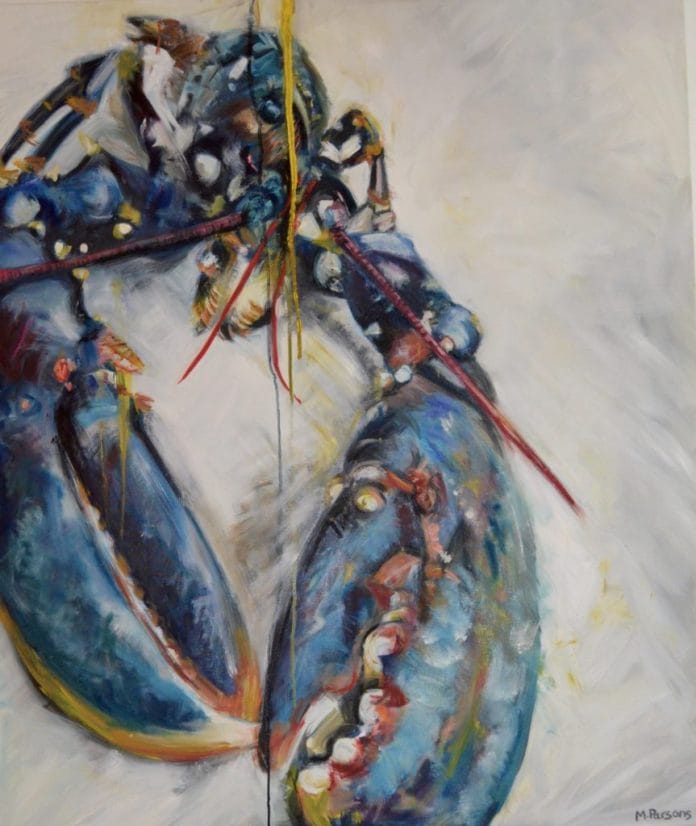 "I love the variety of colours, patterns, textures – every fish, every lobster, every bird is unique." – Michelle Parsons.
"I use the animal as the starting point for abstracted outcomes … The shapes and patterns are a starting point; not too concerned if the technical details are inaccurate – more concerned with loose mark-making and colour blending – light and dark – filling the canvas to create an overall expression." – Michelle Parsons.
Peter Randall Page
Peter Randall Page is an artist famous for his sculptures, drawings and prints. He states that he is "inspired by the study of natural phenomena and its subjective impact on our emotions."  His work has featured walnuts, seeds, plants and insects and many abstract ideas and patterns.
Sarah Simblet
Frequently I get students who opt for art as they really enjoy detailed, observational drawing.  Sarah Simblet is a great artist to have up your sleeve for this sort of student.  Simblet is known for her anatomical and botanical drawings.  She has three botanical books published.  She draws every sort of plant often detailing the roots, stems, leaves, flowers, and fruits.
Find Sarah Simblet books on Amazon.com and Amazon.co.uk
Robbie Honey
Another botanist, who this time is also a photographer, is artist Robbie Honey.  My students have been really inspired by his work, enjoying dissecting, arranging and photographing flowers.  It has led to some exciting work.  You can read more about his work here.
Find Robbie Honey's book 'The Accidental Botanist' on Amazon.com and Amazon.co.uk
Thierry Despont
What could be more of a 'natural form' than our planet and the planets that surround us?  Thierry Despont is an artist and architect who has painted planets using very exciting mixed media.  The painting below is created with asphalt, enamel, acrylic, ink and oil stick on copper plate mounted on wood.
The red paint of Mars below uses enamel, acrylic, oil stick, ink and paper on wood
The painting below uses acrylic and resin on wood panel.
The artwork below is a monoprint.
If you have some favourite natural forms artists that you love using with students, please comment below.
To access a FREE presentation to use in the art room with your students, click the image below.
This blog post includes links to amazon products.  As an Amazon Associate, I earn from qualifying purchases.