I have been meaning to share my memory teapot with you for quite some time.  I made it as an entry for 'Grayson Perry's Art Club' for the theme 'Family'.  I was inspired by a comment Grayson Perry made about 'Memory Jugs'.  I didn't know what they were and out of curiosity googled them.  I was drawn to the ugly/beautiful memory jugs that had been traditionally made in memory of people who had died.  Their surfaces are adorned with a magpie-like collection of broken china, glass and small objects.  For those of us who are prone to collect things, they are irresistible.
My memory teapot is a celebration of my immediate family and not the dead.  It is encrusted with the treasures of childhood and things you find at the back of the kitchen drawer.  Monopoly pieces sit alongside brownie badges and souvenirs from abroad. Screws, buttons and badges, and that key from your keyring that has been there for years and you don't know what it's for.
This teapot is big.  I bought a 12 cup teapot especially for this project.  I would cover a small section in a thick layer of polyfiler and press the objects into it.  Very satisfying! I worked my way around the teapot until it was completely covered.  I needed far more bits and bobs than I originally thought.  My Mum and sister sent me items to add to it as well as my daughters and husband.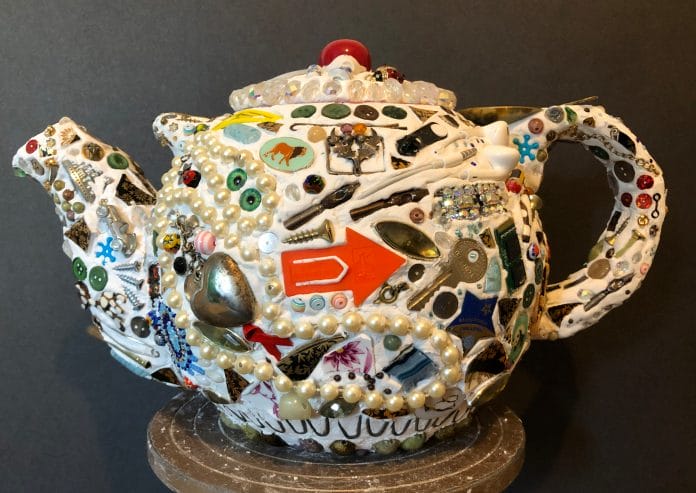 I can imagine doing this in the classroom with students.  Perhaps a teacup for each student?
If you have found this blog post on my memory teapot interesting, why not subscribe to this blog?