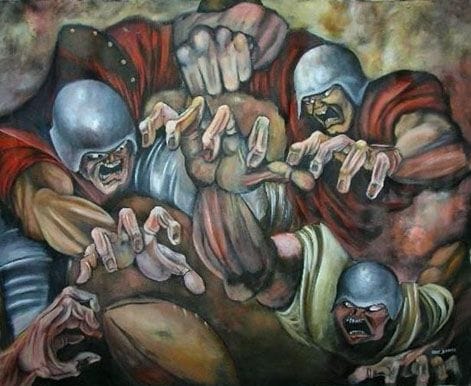 A question for you: How are you going to engage boys in art?
How do you engage boys in art?  Research shows that boys engage with art if you use the following themes and ways of working.  They are switched off by a limited diet of drawing, painting and writing about artists and engage with a broader curriculum.  Design, sculpture, sporting artists, graffiti and risk-taking can all engage boys.  Art teachers around the globe have found success with the following artists.  Of course, this isn't a solution – just a little piece of the jigsaw puzzle! Each image is hyperlinked to a website or google search.
Design
Sculpture
Sport
Graffiti
Unusual Method or Media
Thank you to all the art teachers that have me collect together these artists.  The artists below were also mentioned for engaging boys in art:
Michael Landy, Urs Fischer, Rudolf Stingel, Rachel Whitehead, Peter Doig, Kemang Wa Lehulere, Robin Rohde, Damien Hirst, Andy Goldsworthy, Caravaggio (for his delightful murderous ways) Terry Crews, Kehinde Wiley, Paul Bracq, Dali, Picasso, Game Designers, Jason Heuser, Jamie Hewlett (Tank Girls and Gorillaz) Ai Weiwei, Supreme,  Huge (graffiti), Gaudi, Frank Lloyd Wright, Escher, Frazetta, Yves Klein, Conrad Jones, Richard Estes, Ralph Goings, Takashi Murakami, Vanessa Beecroft, Nick Cave, Justin Bua, Frank Morrison, Alvin Burts, Marianne Brandt.
A huge amount of art teachers have visited this blog post about how to engage boys in art.  It's a huge issue!  If you have any ideas to share, please comment below.
Also, here are some resources that art teachers have told me are popular with boys.