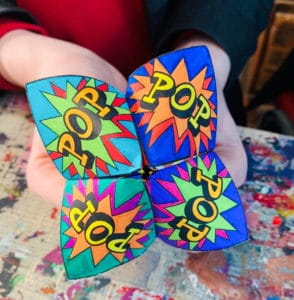 This Pop Art fortune teller is a fun way to get your students to research Pop Art Facts.  After colouring and making the fortune teller, students use the internet or books to research the 8 questions.  Students can then test each other using the fortune teller which is a great way to consolidate knowledge.
This resource includes a lesson plan and two versions of the worksheet: one with the spelling 'colour' and another with 'color'.
To improve your own subject knowledge about Pop Art, there is an informative page on The Tate website.
There are many more artist resources on The Arty Teacher.
You must log in and be a buyer of this download to submit a review.