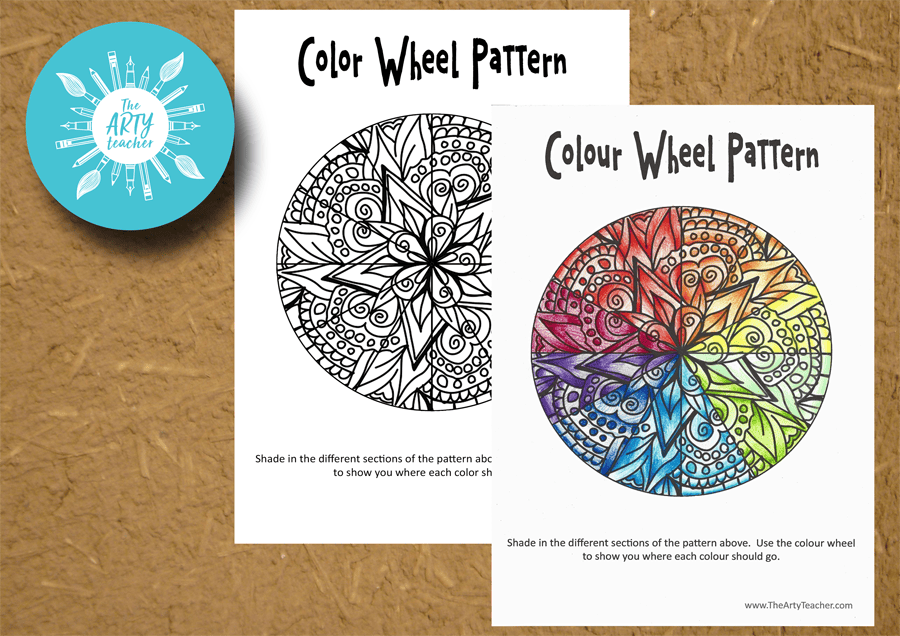 This 'Color Wheel Pattern' worksheet is a great way to reinforce the colour wheel in your classroom.  There are two versions – one with the spelling 'color' and one with 'colour'.
T

o make it easier for your students you also get a good example and a page with two 12 segment colour wheels – again there are two versions with both spellings of color and colour.
You can choose to use coloured pencil as the 'good example' shows which is also gradated, or you could watercolor the segments and teach colour mixing.
There are lots of color art resources for teachers on The Arty Teacher.
Reviews
The patterned colour wheel looks really nice and fits as an excellent additional task for students who might complete their work quickly especially if your topic is pattern or visual elements.
Thank you for your 5-star review!

Thank you for your feedback.
I will use the color wheel pattern a lot during my future lessons, as I will let the students get acquainted with the basics of art. I am studying to be an art teacher, so at the moment I need to be comfortable in using the color wheel in many different ways. This is the best idea that I have come acrossed over. So thank ypu very much for your work!
There is a big difference in what the students get to learn in the Swedish school compared to the English school when it comes to art lesson.
You must log in and be a buyer of this download to submit a review.