Color Art Resources – Color Theory
How to teach colour theory?  It's a big question and one all art teachers need to know the answer to. There are so many different ways to do it. This blog post features all the colour art resources available on The Arty Teacher.  Note that each resource always comes with two versions.  One with the spelling 'colour' and another with the spelling 'color'.
First up is this free colour wheel.  The outside wheel has 12 sections which is essential for teaching color theory.  It labels primary, secondary and tertiary colours.  I laminate these so I can use them again and again.
The colour wheel pattern resource below is a different and interesting way to teach students about the colour wheel and colour theory.  Students can simply colour the colour wheel or you can teach them about gradation.  This comes with the good example that you can see below.
The colour schemes art lesson below asks your students to colour the patterned circles using harmonious or analogous, complementary and monochromatic colours.  It's a great way to instill this knowledge in your students and makes a striking page in a sketchbook.
The complementary colors worksheet (below) which includes a small 12 sections color wheel asks students to colour in the shapes using only complementary colors.  It makes a really attractive sketchbook page or display.  It comes with a lesson plan in case you want to use it as a sub lesson.
'Analogous Colors' worksheet and below, 'Harmonious Colours' worksheet, asks students to use these color schemes to color in the shapes.  Both come with a lesson plan should you wish to use this as a sub lesson.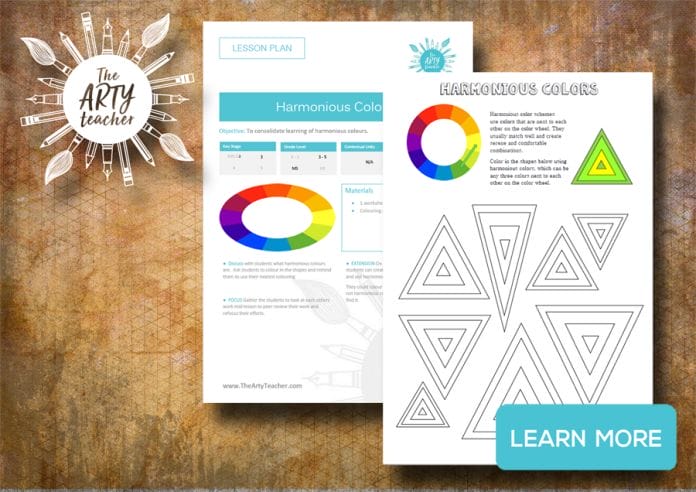 Three Ways to Teach Tints and Shades
Click an image to learn more.
Once you've taught your student different aspects of colour theory, you may want to test their knowledge.  If so, the resource below is just the ticket.
If you want lots of the resources above, why not consider a subscription?  Learn more about subscribing here.
Click the image below to go to a free color game that you could use with your students.  It makes a great extension activity if your students have access to a computer or iPad.