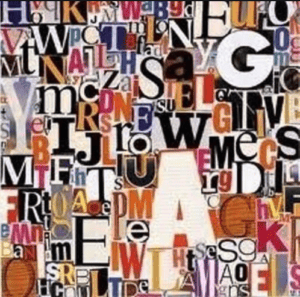 Hello Students,
In your next two art lessons at home, your task is to create a collage of numbers and letters like the example you can see above.  You are going to need:
A ruler and pencil
Old magazines, newspapers or junk mail
Glue
Your sketchbook or paper.
First, you need to draw a square on your page which is 10cm x 10cm.  When you draw the square place it on the page so that it looks like the image below.  You are going to stick your letters and numbers inside this square.
Next, you are going to have to look through your magazines, newspapers or junk mail and cut out lots and lots of letters and numbers that are bigger than 2cm's.  Cut them out as squares and rectangles, not around the shape of the letter.  When you have done this, look at the example at the top of this page again.  Notice how the letters overlap each other.  Look how you will have to cut some of your letters in half to create the edge.
Start glueing your letters and numbers to the page.  Make sure they are stuck down neatly.  When I mark this work I shall be looking for:
Neat cutting skills.  Have the letters and numbers been cut out in neat squares and rectangles?
An even spread of sizes and colours.
Neat glueing skills.  Do the letters and numbers flap up or have they been stuck down neatly?
Is the area around the collage clean and free of glue?