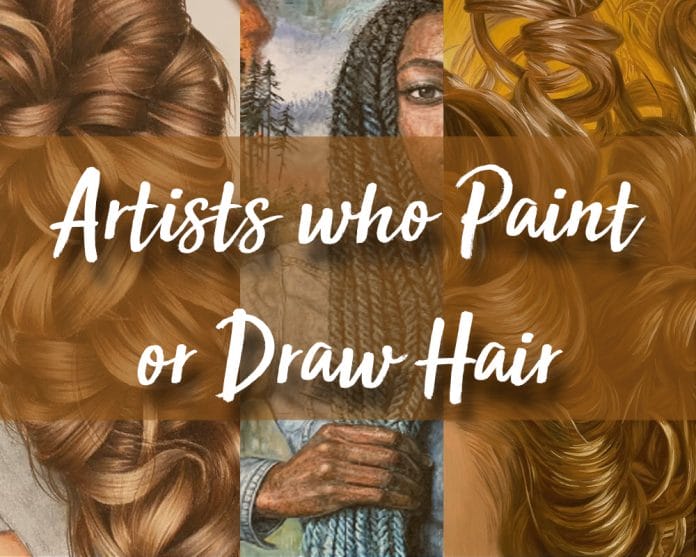 Below is a list of artists who paint or draw hair. From Leonardo da Vinci who was working in the middle ages to artists who are alive and working today. If you haven't yet had a student ask you how to paint or draw hair, it is just a matter of time. This challenging skill can be approached in a variety of ways and having a list of artists to direct your student to is really helpful.
Oscar Ukonu
Hyperrealist artist Oscar Ukonu blows my mind. His works are created using ballpoint pen and he loves to explore black identity and pride in an increasingly globalized world, as well as ideas surrounding Afrorealism. His works are large and he spends approximately 200 to 400 hours on one drawing.
Dante Gabriel Rosetti (1828 – 1882)
Rosetti was the first artist that sprang to mind when I planned this post. Rosetti was an English poet, illustrator, painter, translator, and member of the Rossetti family. He founded the Pre-Raphaelite Brotherhood in 1848 with William Holman Hunt and John Everett Millais. Although his earlier work concentrated on literary themes he moved on to creating work about female beauty.
Novelist Elizabeth Gaskell met Rosetti in 1859 and wrote "I think we got to know Rossetti pretty well … I had a good deal of talk with him, always excepting the times when ladies with beautiful hair came in … It did not signify what we were talking about or how agreeable I was; if a particular kind of reddish-brown, crepe wavy hair came in, he was away in a moment struggling for an introduction to the owner of said head of hair. He is not as mad as a March hare, but hair-mad."
Julia Jacquette
American artist Julia Jacquette is a painter who paints the world around her. Food, houses, close-ups, collections are all themes that recur in her work. She has a collection of beautiful, fluid close-up hair paintings. I love the loose brushwork. Residing in both New York City and Amsterdam she has exhibited extensively.
Alphonse Mucha (1860 – 1939)
I love the stylised way art nouveau artist Alphonse Mucha approaches hair. Swirling, crisscrossing hair features in many of his works. The image below was made for a cigarette advertisement and was one of the many posters he made at this time. I think it's good to remember this artist when thinking about drawing or painting hair as it is a different, successful way of doing it.
Mima Jovanov
I know, without a doubt, that my students would love the work of Mima Jovanov. She has a large Instagram following and a successful Youtube channel. She has a tutorial about drawing hair with pencils here.
CJ Hendry
Another artist who works with coloured pencils to is CJ Hendry. She is Australian-born but Brooklyn-based. This time it is wigs and also the scale of these is worth noting. These are huge! Hendry is known for hyperrealist drawings, executed in pen or (since 2017) coloured pencil, that she posts and sells on Instagram.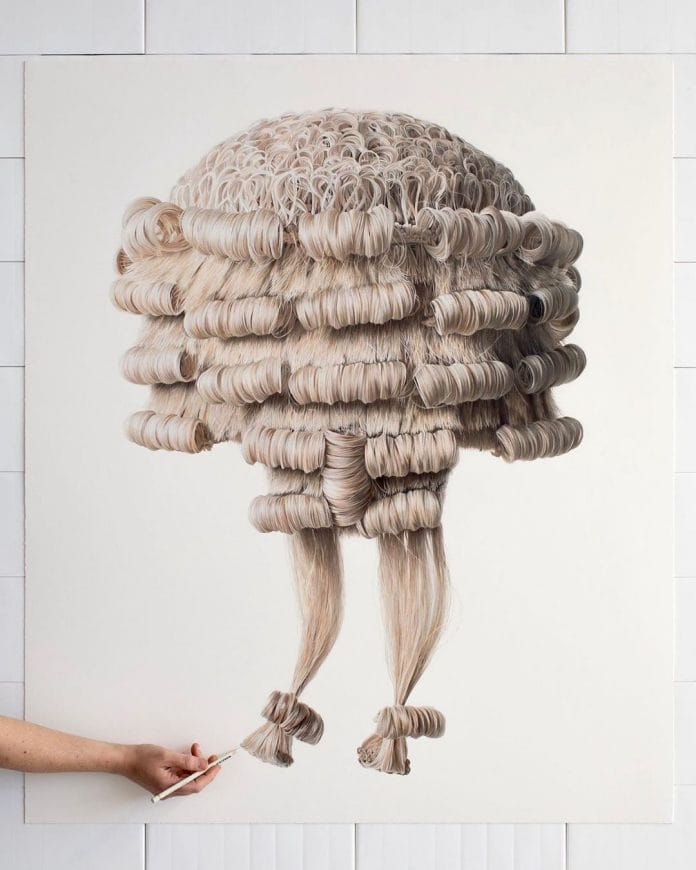 Leonardo Da Vinci (1452 – 1519)
If your students want to explore a more sketchy approach, directing them to the drawings of Leonardo Da Vinci could be the answer as his deft use of line is exquisite. I would get students to draw with a sepia pencil. This kind of line drawing would work well with monoprinting too.
Tim Okamura
Tim Okamura investigates identity, the urban environment, metaphor, and cultural iconography through his paintings of proud-looking women. Detailed areas of painting dissolve into looser, dripping areas of paint. His works incorporate collage, mixed media and spray paint. So much to explore in the art classroom!
Deborah Klein
Australian artist Deborah Klein has a large collection of paintings that feature hair and the backs of heads. What attracted me to her work and made me want to include it in this post is the unusual compositions; many of her artworks are made up of two or more canvases.
Her website is well worth a visit as she has many exciting collections where she experiments with different media, subject matters and themes. I was particularly excited by her work that combines humans and insects. So many great starting points for art classroom projects.
Resources for Painting or Drawing Hair
I have these two useful resources for painting or drawing hair. Just click the image to learn more.
If you have enjoyed this blog post about artists who paint or draw hair, click the image below to register. If you are an art teacher, registering will also mean you can download 3 of my resources that are categorised as free each month. My website has many free art teaching resources.