Artists who are inspired by water is a fantastic theme to pursue with your students and one that artists have completed in so many different ways.  Amongst the following artists, you will find paintings, pastel work, collage and textiles.  Hopefully, something for all of your students to engage with.
When I think about water artists, the first two that pop into my head are Hockney and William Turner.  David Hockney is an English painter, draftsman, printmaker, stage designer and photographer. An important contributor to the pop art movement of the 1960s, he is considered one of the most influential British artists of the 20th century.
William Turner was an English Romantic painter, printmaker and watercolourist. He is known for his expressive colourisations, imaginative landscapes and turbulent, often violent marine paintings.  His later work became more abstract and is so atmospheric.
Next I've include Zaria Forman.  Her hyperrealistic pastel work is often documenting climate change.  She has flown all over Antarctica, Greenland, and Arctic Canada to inspire her work.  As you can see from the detail below this artwork, her work is large scale and she often works with her fingers.
Your students probably need no introduction to Hokusai, but he did many watery works other than the famous 'The Great Wave off Kanagawa', also known as 'The Great Wave' or simply 'The Wave'.  Click the image below to see more of his waves, seas, and waterfalls.
Could we have a post on water artists without including Monet?  I think you need to see Monet's work first hand to appreciate both his reflections in his waterlily paintings and the water in his London paintings.  Click the images to see more.
Now for something completely different.  Julie Shackson is an artist definitely worth investigating.  She has both textiles and photographs inspired by water, often the shoreline.  Just beautiful.
I hope we've all had the opportunity to stare down into a river where the clear water is running over stones and feel inspired.  Canadian artist Margarethe Vanderpas has captured just that.  Working in oil paint Vanderpas explores new regions in northern Ontario on foot and by kayak, aiming to capture the waters and unique worn, weathered rock formations that she finds.
You have to look twice at Matthew Cusick's work to realize it's collage.  I like it particularly when you spot the words, letters and symbols of the map in the waves – and how appropriate that the blue of the map becomes the sea in an artwork.
British artist Maggi Hambling has become synonymous with crashing waves.  This will appeal to the painters in your class.  She is a wonderful excuse to get really gestural with paint.  She is a sculptor and portrait artist too.  If you want to get to know her work further there are some great books on her work here in the UK, and here in the USA.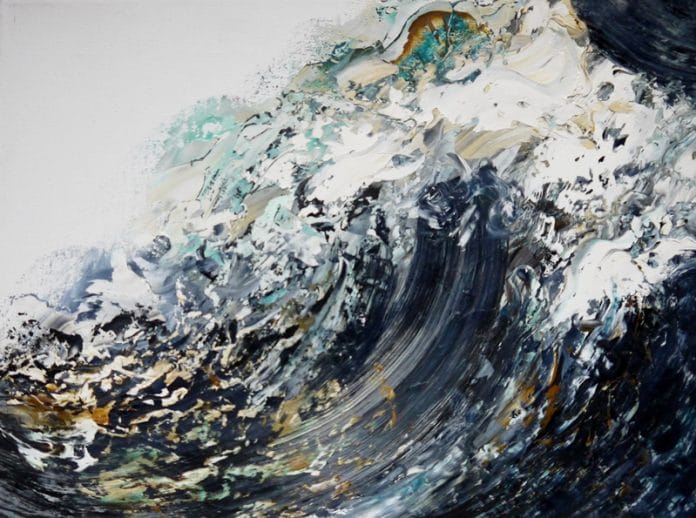 If you have some super-talented painters in your classes, introduce them to Samantha French.  French states on her website "My current body of work is focused on swimmers underwater and above. Using vague yet consuming memories from my childhood summers spent immersed in the tepid lakes of northern Minnesota, I attempt to recreate the quiet tranquility of water and nature; of days spent sinking and floating, still and peaceful."
It's hard to believe the image below is a painting.  Canadian artist Carina Francioso creates hyperrealistic paintings of bodies of water using oil paint.  Working from her own photos from around the world, small brushstrokes give the illusion of shimmering movement.
The water artwork of American artist Karen Gunderson (below) makes you look twice as it's painted in black and does things to one's eyes!  This way of working evolved from painting clouds where the black was initially underpainting.  Gunderson states "Using black paint to paint the images and using the light to show the forms becomes an experience.  It includes the viewer, the body of the viewer and the movement of the body of the viewer.  I want my painting to be an experience… a physical experience as well as an emotional and intellectual one."  You can also find Gunderson on Instagram.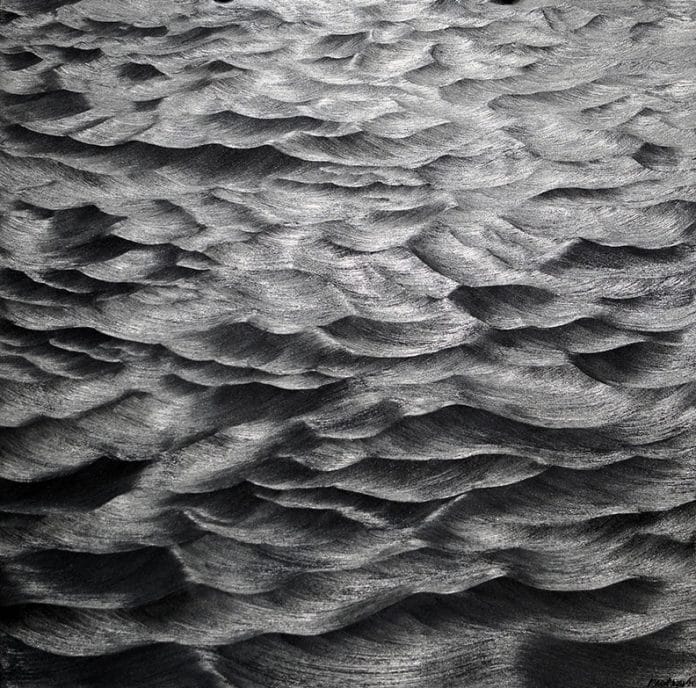 Tarrise King is a contemporary aboriginal artist who has explored themes such as the earth, bush, fire and water.  I like that it reflects traditional aboriginal work with its dots but also has a contemporary feel.
I hope you've enjoyed these artists.  If you know of any other water artists please comment below so we can keep this list growing!
This beautiful resource for Art Teachers is only £1 or $1.  It is an inspiring start for your students who want to take on the challenging subject of drawing water.