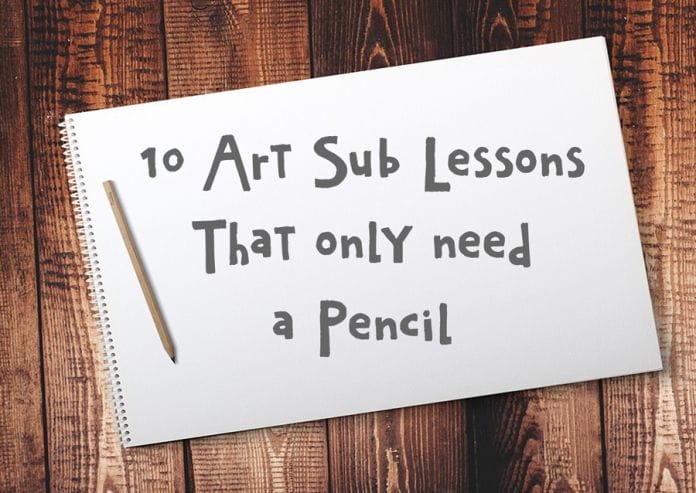 No teacher wants to be off school.  You know your students make more progress when you are there and no-one takes care of your materials and room like you do.  In reality, I like to lock everything away and leave work that only needs a pencil.  Having said that, with art being trimmed and trimmed from the curriculum in recent years, every second counts and I still want my students to make progress.  Hopefully, these 10 art sub lessons will help to reduce your workload and be prepared. The art worksheets below all:
Come with a lesson plan.
Link to commonly taught themes
Are tried and tested.
Teach valuable skills.
Only need a pencil.
Are only $3 or £3
(Or are much, much less when you subscribe).
Click on the image to purchase the resource.
Converse Grid Drawing: Encourage beautiful drawing with this converse grid drawing. Ideal as part of any drawing module or this would make an excellent homework or cover lesson to improve drawing skills. There are two versions of this grid drawing.  One where the grid lines are already in place, and one where your students draw the lines using the little marks on the edge as a guide.
---
The Circle Game: A great art cover or sub lesson.  Students think creatively and turn the circles into different drawings on this one-page resource.
---
Copy the Pattern: A popular, one page, cover/sub lessons that requires all students to accurately copy the pattern. Includes lesson plan.
---
Your students will be inspired by the characterful faces in Hogarth's engravings!  This worksheet and lesson plan asks students to create a page of detailed drawings inspired by the faces they can see on the worksheet.  This is an excellent resource to encourage detailed observational work and will link to many portrait projects.
---
Drawing Fruit: This drawing fruit worksheet is a must-have for natural forms projects.  High-resolution images work well in colour and when photocopied into black and white.  Use it as a sub lesson or integrate it into fruit or natural forms projects.  The accompanying lesson plan is written as a sub lesson and includes a scripted paragraph for a non-specialist.
---
We all teach portrait drawing units of work, so it's good to have a portrait sub/cover lesson in your bank of resources.  This drawing eyes sub lesson is ideal.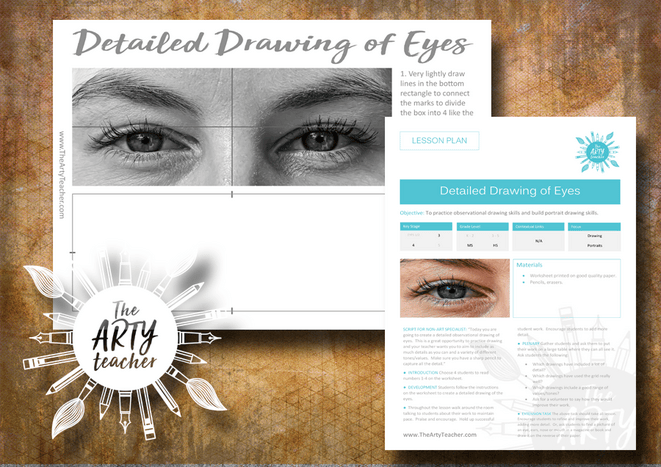 ---
This one-page resource with lesson plan asks students to practise creating tones/values with cross hatching and then to draw the burger using cross hatching.  This has been created as a sub/cover lesson but could also be used as part of a food project. The instructions suggest using a pen but these could also be completed in pencil.
---
Draw the Butterfly sub/cover lesson is a super-useful download and will link to lots of projects you already teach.  Perhaps you already have an insect project or natural forms project? There is a worksheet that suggests pencil and another that suggests coloured pencil.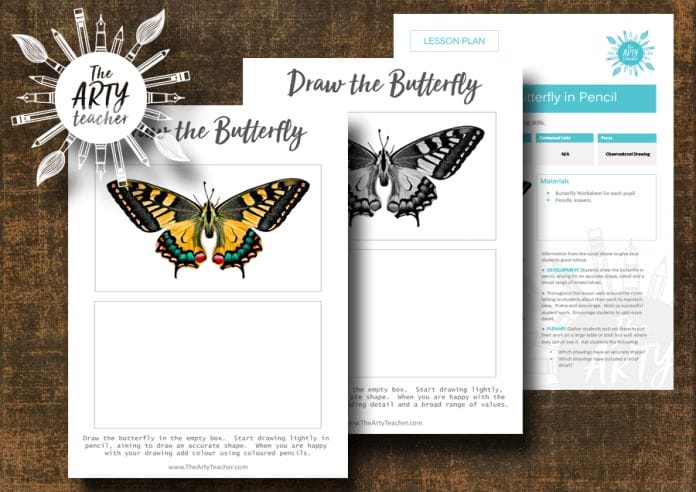 ---
Students love a challenge and 'The Knot Challenge' is certainly that!  The lesson plan comes with a script for non-art-specialists so you can use it as a sub/cover lesson too.
---
Backbone Drawing: This detailed drawing activity will give your students a challenge and keep them busy.  It comes with a lesson plan which is easy for a non-art-specialist to use.
10 art sub lessons is a blog post about sub lessons but you can find many, many more art sub lessons on The Arty Teacher website.
---
Check out the Zentangle Resouces on The Arty Teacher!